Glacier Tours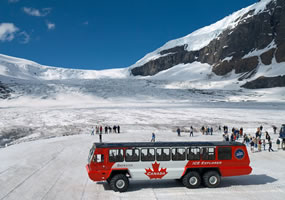 One of the largest accumulations of ice and snow south of the Arctic Circle, the icefield covers an area of nearly 325 sq km.
Travel in a specially designed Brewster Ice Explorer to the middle of the Athabasca Glacier, on a 5 kilometre round trip journey.
Your driver/guide will explain how glaciers are formed and point out interesting geological features as you travel in safety and comfort.
At the mid-point, you will have the option of stepping out onto ice formed from snow falling as long as 400 years ago.
Call: 1 877 423 7433
Visit Mobile Website: www.explorerockies.com/mobile
Visit Website: www.explorerockies.com
Combine with a sightseeing tour for a full Canadian Rockies experience.
Athabasca Glacier Icewalks
If you feel like trekking up the side of a glacier, these are the guys to do it with. They've been guiding since 1985 and offer half and full day trips.
1 800 565 7547