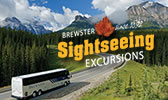 Brewster Sightseeing Excursions
Very comfortable luxury motor coaches and professional guides, sit back and see the best of the Rockies. Roaring waterfalls, emerald lakes, alpine meadows and snowcapped peaks. Brewster has loads of sightseeing options and has been guiding in the Rockies since 1892!!


View more details
>
Click to Call
800 760 6934

Discover Banff Tours
Sightseeing and activities. Visit their activities centre in Sundance Mall.
215 Banff Ave

403 760 5007

White Mountain Adventures
Operates transport for access to Sunshine Meadows.

403 762 7889
Banff Tours & Activities
© 2009 Banff.mobi