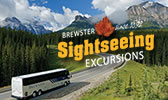 Brewster Sightseeing Excursions
Explore the Canadian Rockies
Outstanding sightseeing tours, boat & float trips, and breath-taking icefield excursions, Brewster is Canada's National Park specialist and your one stop shop for exploring Banff & the Rockies.
Book Now
800 760 6934
Most Popular Tours
Discover Banff Tours
Lake Louise Tours
Columbia Icefield & Ice Explorer
Lake Minnewanka Boat Cruise
Banff to Jasper
Kananaskis Helitours

2010 tours run from Apr 23 to Oct 19
Prices start at $49.00 +gst
Convenient departure locations from Banff.


Book Now
800 760 6934
Sightseeing Tours in the Majestic Canadian Rockies
See roaring waterfalls, emerald lakes, alpine meadows and snowcapped peaks. Visit the most exceptional locations for photos and wildlife viewing in Banff and Jasper National Parks.Combine your tour with other must see attractions such as the Banff Gondola, Columbia Icefield, or a boat tour on Lake Minnewanka.

Enjoy the beauty of Banff and the Canadian Rockies with Canada's National Park specialist. Fully guided tours on luxury motorcoaches with large viewing windows for the best views and pictures. Bottled water is provided on all our sightseeing tours. Our drivers all live in Banff or Calgary and know Banff, Yoho and Jasper National Park better than anyone.


Book Now
800 760 6934

Banff Tours & Activities
© 2010 Banff.mobi